About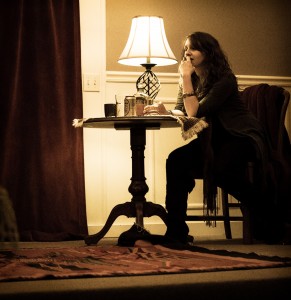 "Simply put, Amanda Broadway is a Nashville-based singer and a songwriter with an affinity for blues and soul music. Although to stop there would be a travesty. Broadway's voice is a mighty, dazzling blast of light guiding you through the murky waters of today's blues music and back in time to the unadulterated glory of the 1960s and '70s. Her voice harkens back to the likeness of Etta James while reveling in the nuances of today, effortlessly soaring above her well-crafted, deeply groove-focused blues and soul music." – Ian Haygood, SpokesBUZZ
Amanda performs in and around Nashville with her 10 piece live-band featuring some of the grooviest musicians on the scene. The show is dynamic and diverse, taking listeners on a journey through many different genres and moods. From blues to rock and soul to funk, there's a little something for everybody as the band whispers and wails through Amanda's original music, favorite cover tunes, and blues standards. In July 2015 they headlined the Rendezvous In the Park Festival in Moscow, ID.
You can also see Amanda weekly at Nashville hot-spot Acme Feed & Seed as part of the house band – The Music City Toppers. She is one of three vocalists in the ten-piece ensemble that brings funk, soul and R&B to lower Broadway every Thursday night for Acme's weekly Funky Tonk.
Currently, Amanda is working on an ongoing series of recordings called The Sanctuary Sessions. Recording all songs at The Sanctuary in Nashville, the focus of this project is to approach each song in the studio individually, and to follow the vision of each song without limitation by genre, instrumentation, personnel, or production style. The first track, "Real Thing", was recorded live with a ten-piece band, and released along with a music video capturing the session. The song was featured on AmericanSongwriter.com as a Daily Discovery. Since then, "It Never Rains," "He Takes His Time With Me," and "Watch Over Me" have been released, with more tracks on the way. "The Sanctuary is a very special place for me. Mikie Martel, my now fiancé, bought it a few years ago, and since then we have created so many wonderful memories there not only as a couple, but with our friends in the community. It's home." –AB
In June 2015, feeling overwhelmed with sadness and anger from the state of the world, Amanda was inspired to write 'Spread Love Around' – a call to action, and a message that encourages kindness, equality, acceptance, compassion, love and generosity. 'Spread Love Around' is available on CD, and for download on iTunes and other digital music retailers. Posters and t-shirts are also available for purchase online, which feature the bold and colorful 'Spread Love Around' logo. All profits from the sale of the single and all associated merchandise will be donated to the non-profit organization Fibuspam, Inc. who brings free healthcare and humanitarian support to children and adults of indigenous communities in Ecuador. (Visit fibuspam.org for more information about their mission and impact.) Calling on her friends and community in Nashville, Amanda was joined by 14 musicians who donated their time and talent to record the track at The Sanctuary, which was released on July 21, 2015. With the footage captured entirely on cell phones, a music video shortly followed, featuring clips of the recording sessions, Fibuspam volunteers at work, and submissions from others spreading love around. Over 100 people participated in the video.
Her first record, the independently released EP Me Without You (2011), reached number 8 on the iTunes Top Blues Albums chart. "Somethin' Funny Goin' On," the final track on the effort, won the Vox Pop (fan's choice) for Best Blues Song in the 2013 Independent Music Awards. In 2012, Amanda and Mikie Martel, a.k.a The Marways, released Christmas With The Marways to iTunes. Recorded, mixed and mastered at The Sanctuary by Martel, Christmas With The Marways features "The Man With The Bag" and "Please Come Home For Christmas" arranged and performed by The Marways with a little help from their friends.
Outside of creating her own music, Amanda loves collaborating with her friends and colleagues in the Nashville community on other projects. She has a passion for singing backing vocals with other local artists and bands such as The Danberrys, The Nashville Drummers Jam, Rebecca Moreland, and Alicia Michilli. Recently she joined My So-Called Band, popular local 90s tribute band, as one of the Fly Girls.
In 2013, Amanda founded The 27 Club Band, which she performs with as Janis Joplin. The 27 Club is a term that refers to the several musicians that died at the young age of 27. Their untimely deaths were often grizzly and mysterious, typically resulting from violence or substance abuse.  There are dozens of members, including Janis Joplin, Jimi Hendrix, Amy Winehouse, Ron "Pigpen" McKernan (Grateful Dead), Kurt Cobain, and Jim Morrison (The Doors). The 27 Club Band features several local artists and musicians that strive to help keep their music alive.
On Valentine's Day 2016, Amanda and Alicia Michilli joined together to produce Dear Etta: An Etta James Tribute at The Basement in Nashville. The show featured Amanda & Alicia performing Etta's classic tunes, along with several guest vocalists that included Charles "Wigg" Walker, Maureen Murphy, Kyshona Armstrong, Quinn DeVeaux, and more.
Amanda is set to record a tune with collaborative group New York/Nashville Connection and perform at their showcase on Saturday May 14, 2016 at Acme Feed & Seed as one of their featured artists.
"I believe in the power of love and music. Above all, I hope to spread love around and make music that makes you feel something."–AB